A short biography
---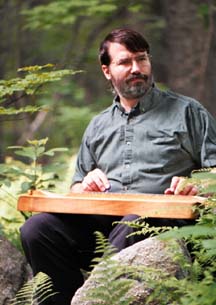 For all my life, I've loved music. In my early years I'd fooled around with the piano. My family had a piano since the time I was about 7 years old and I was fascinated with it. I worked my way through a couple of the John Thompson piano study books, and got a lot of "easy piano" sheet music and personality collections to work on. However, I only took formal piano lessons for less than a year when I was nineteen.

I'd learned enough piano to be able to hack out a few pieces of music, enough to impress my friends and no one else, but I'd never really got to the point where I could be very expressive on it. I gave up the lessons for lack of time to practice once I was in college.

While I was studying for a mechanical engineering degree, my brother Dave bought a dulcimer at a craft fair. It was during 1977 and the dulcimer had been painted red white and blue in a bicentennial motif, with star shaped sound holes and everything. I guess he got a good deal on it. It was actually a pretty good instrument, however, made by Jerry Beale of Marne, OH, which is only five or six miles from my current home. (Mr. Beale is now retired.)

I played around on it a bit, and was enchanted by its sound and simplicity, but I felt I was too busy to take on a project like learning a new musical instrument at that point in my life. However, maybe a year later I saw a dulcimer kit for sale at another crafts show, and I bought it.
Over the next year or more, in between classes and exams, I did a really bad job of building that dulcimer. To give you some idea, there was a part of the fret board near the "one" fret that for whatever reason I was having trouble getting sanded smooth. I was determined, however, and kept working on it. This, of course, gave me a fret board with, in effect, two strum hollows, one at each end of the fret board. I had to sort of pry up the first fret so that it bowed up over the wood, so that the string wouldn't buzz. (It also had a REAL strange fret pattern to begin with.) I was blissfully unaware of its shortcommings, though, so I dove in and started to play. When it didn't sound quite right, I assumed I needed more practice.

It was several years after I finished that first dulcimer that you might say I started playing "seriously." 1983 is when I usually say that I started playing, but in fact, I'd owned a dulcimer since around the end of 1980. I guess you could say that in early '83 I started being a "dulcimer player" instead of a "dulcimer owner." About this time I started attending the Columbus Dulcimer Club, which helped me gain playing experience and confidence in performing.

In Feb. of 1984 I attended my first "dulcimer event." It was "Dulcimer Doin's" in Germantown, Ohio, which is sponsored by the Dayton Mountain Dulcimer society. Dulcimer Doin's is a weekend retreat type of event, with workshops and all night jams, (literally all night, you don't go there to sleep) and a really great open stage on Saturday night. My set on the open stage that year was my first public performance as a mountain dulcimer player, except for at club meetings. I did a song called "The Scotsman's Kilt" and a composition I had just completed that I called "Song for Albert." Jerry Rockwell was there, and after the open stage was over, he told me that he thought my piece was, "very nice, but you've got to DO something about that dulcimer you play."

I later got better instruments, and got better at playing them, but I still play some of those compositions I did back in the "early days." In 1986 I won the Bob Evans Dulcimer contest, and bought a McSpadden teardrop dulcimer with part of my winnings. This was my main instrument for quite a long time, and is the one I used for most of the music on my first two cassettes. I also got a very sweet Ron Ewing four string dulcimer with a short string length. It's not a dulcimette, but has an intermediate length fret board that is really nice with a light set of strings tuned to a high A. I usually keep it tuned either EAea or DAea (Bass to treble).

My primary instrument is now a Jerry Rockwell three string, and I also have a Rockwell Baritone four string. These instruments will be featured prominately on "Shaker's Fancy," which will be released in early 1998. It will also include a bit of plucked psaltry, on an instrument I designed and built myself, my one success as a luthier.

Jerry became one of my greatest musical influences, from shortly after the Bob Evans contest in 1986, and continuing through to the present. I took music lessons from him for several years, up until about the time I put out my first recording in 1991. Other players that have influenced me are Bob Force and Al d'Ossché, Leo Kretzner, and Lois Hornbostel. Bob and Al's recording, "The Art of Dulcimer" was the first album of dulcimer music I owned, and Lois' book, "Anthology for the Fretted Dulcimer" continues to be a source of inspiration.

In general, although the mountain dulcimer is typically thought of as an Appalachian Folk Instrument, I don't limit myself to Appalachian folk music. My music stems from the European Classical tradition, Celtic music, English Country Dance Tunes, Jewish and Yiddish folk tunes, and Blues and Jazz inspired pieces as well. About half of the selections on my recordings are original compositions, and there is a sprinkling of free improvisations on them as well. Composition is just a small step away from playing, in my opinion. I find that when I'm just letting the music flow through my fingers into the dulcimer, I can get some of my best music. Unfortunately, most of the time when this happens, I can't play the piece again. There are exceptions, however. "Blues in F#" and "Summertime Memories" are examples of improvisations that later became compositions.

As for the future, I suppose it will be more of the same. I now have four recordings, and I intend to put out a companion books for them eventually. In any case, I intend to keep performing, composing and recording as long as I can.
[ Home | Bio | Links | Recordings | Books | Ordering | The Virtual Classroom | Workshops ]